Do you love recipes? Download Recipes From The Heart, my sweet romance recipe book offering loads of recipes from all my books! This book is FREE with Newsletter signup, so grab your copy today.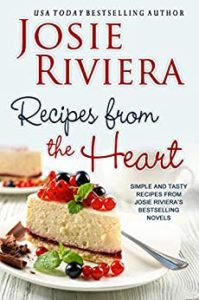 Are you drawn back to certain recipes because they bring up memories?A heartwarming story is the hallmark of a romantic read, and every one of my books contains a recipe submitted by a reader, my beloved mother or grandmother, or friends in Ireland.
Now these recipes are all together in one book for easy referral.
Savor the magic of my sweet reads—from Tudor to Contemporary, Holiday to Homemade fudge.
Enjoy your happiest moments spent in the kitchen, and bring back the joy and memory of my sweet romances, and the recipes created by my characters.
Each recipe is a grand celebration of love.